PVC and Fire
Home | PVC and Fire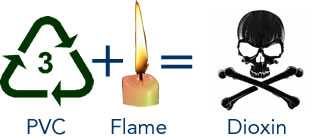 Among the most serious dangers that PVC poses to humans and the environment is when PVC is burned. The widespread use of PVC in modern homes - for vinyl flooring, vinyl wallpapers, shower curtains, window frames, electrical equipment including cable and wire insulation, and Venetian blinds to name but a few items - ensures that house and building fires will probably involve PVC products. If this happens dangerous dioxin will be generated.
Dioxins are created when PVC is produced, recycled and disposed of in incinerators, and when PVC products burn in accidental fires such as landfill fires. The European Union states that
"PVC waste contributes between 38% and 66% of the chlorine content in waste streams being incinerated. The other main sources of chlorine are putrescibles (about 17%) and paper (10%). On average it can be estimated that about 50% of the chlorine input into the incinerators are due to the presence of PVC."
Dioxins are now present throughout the environment and the food chain. Everyone is exposed to them in their diets, particularly through fatty foods such as dairy, meat, fish
and eggs.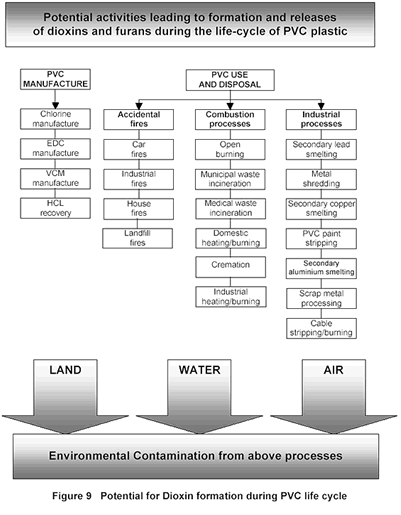 TCDD, the most lethal form of the dioxin family, is a known human carcinogen and hormone disrupter and is recognised as the most toxic synthetic compound ever produced. All humans and animals now carry body burdens of TCDD and other dioxins.
During 9-12 July, 1997, at least 400 tonnes of PVC were burned in a fire at Plastimet Inc, Hamilton , Ontario ( Canada ). The facility was storing bales of "jet trimmings" from a manufacturer of automobile interiors. Analysis of soot and ash samples after the PVC fire at the plant, revealed levels of dioxin 66 times higher than permitted even for industrial land. This one fire increased the annual dioxin emissions for the whole of Canada by 4 percent in 1997. Residents were advised not to eat local garden produce or allow their children to play on the grass.
Even during small house fires considerable amounts of dioxin can form because PVC is present in interior furnishings and products such as floorings and wallpapers, and electrical equipment such as cables. The hydrochloric acid formed when PVC is burned, can lead to life threatening lung damage and causes serious corrosion to buildings.
The first local authority restriction on PVC use in public buildings occurred in the town of Bielefeld , Germany in 1986. This restriction occurred after a fire in a bowling alley, which left a costly and dangerous dioxin cleanup problem.
In 1993 the German Environmental Protection Authority (EPA) recommended that in the long run, "PVC products should be substituted by other materials in all areas where the potential dioxin and hydrogen chloride formation in case of fire poses a substantial risk for human health and the environment."
Fires at landfills are frequent occurrences, even in industrialised countries. For example, the US EPA recently estimated that landfill fires contribute to 20 percent of dioxin releases into the air.
Based on estimates by the US EPA, the burning of household wastes in open barrels and piles, is the source of almost one-fourth of dioxin releases to air in the US . The Agency's studies show PVC as the major source of chlorine available for dioxin formation.

In-Depth Reports
The Burning Question: Chlorine and Dioxin -

hits:6637 | Last modified: September 09 2005

|


by Pat Costner (1997). In 1995 a new scientific study emerged in policy debates around the world concerning dioxin prevention strategies. The conclusions of a study published by the American Society of Mechanical Engineers (ASME) are used to support the contention that there is no link between PVC or chlorine waste inputs to incinerators and the amount of dioxin output. Greenpeace did an evaluation of the raw data to show a surprisingly higher degree of correlation than is concluded by the ASME report.
Environmental Impacts of Polyvinyl Chloride Building Materials -

hits:9064 | Last modified: September 09 2005


Learn more about why PVC is inherently hazardous including its relation to dioxin formation. [pdf] by Joe Thornton, Ph.D.
Update on the Environmental Health Impacts of Polyvinyl Chloride (PVC) as a Building Material: -

hits:8315 | Last modified: September 09 2005


Evidence from 2000-2004 - a commentary for the U.S. Green Building Council [pdf] - by Sandra Steingraber, Ph.D
Dioxin From Cradle to Grave -

hits:5122 | Last modified: September 09 2005


[pdf]by Joe Thornton (1997). This report explains the health effects of dioxins and the link between PVC and Dioxins.
PVC: Bad News Comes in 3's -

hits:6984 | Last modified: September 09 2005


This report gives an overview of the health hazards of PVC and the looming PVC waste crisis facing the USA today. M Belliveau and S Lester (2005)
Chlorine, Combustion and Dioxins -

hits:4120 | Last modified: September 09 2005


by Pat Costner (2001). A compilation of studies showing how reducing chlorine in wastes will reduce dioxins in incinerators.
Zero Toxics. The Sources of By-Product POPS and Their Elimination -

hits:4948 | Last modified: September 09 2005


by D. Luscombe and P Costner (2001). This report examines how Dioxin, one of the most persistent organic pollutants (POPS)in the world today is directly tied to PVC production and disposal.
PVC Fires List -

hits:5963 | Last modified: September 09 2005


A compilation of sampling results from PVC fires.
Estimating Releases and Prioritizing Sources in the Context of the Stockholm Convention -

hits:6209 | Last modified: May 29 2006


by Pat Costner (2005). This new report characterizes numerous sources of dioxin, including a number of recent studies demonstrating the link between PVC and dioxin formation
Cutting Edge Contamination - A Study of Environmental Pollution during the manufacture of Electronic Products -

hits:5131 | Last modified: September 06 2007


"In recent years, concerns have grown over the use of hazardous chemicals and materials in electronic products." Mention is made in this report with regards to Pthalates - chlorinated toxic chemicals closely related to PVC. Download the report here.

More Resources


Good links to good sites
Health Care Without Harm -

hits:4090 | Last modified: September 09 2005

|


This network is dedicated to non-incineration alternatives to medical waste as well as a PVC phase-out in all hospitals.
BE SAFE -

hits:7636 | Last modified: January 26 2006


This US-based network of grassroots groups campaign for PVC and dioxin phase-outs. A good resource for dioxin and health updates. Has ongoing campaigns to target PVC phase outs.
Global Anti-Incineration Alliance -

hits:4915 | Last modified: September 16 2005


Also called the Global Alliance for Incineration Alternatives (GAIA)this international network is an excellent resource on the health risks from incinerators.
Greenpeace International -

hits:15116 | Last modified: September 16 2005


Just type PVC or VINYL in the search engine to find a large range of resources and archived reports. Also explore the different Greenpeace websites in other countries (and other languages) for regional PVC information.

Audio Reports
Delays over Dioxin -

hits:4918 | Last modified: July 23 2006

|


An important EPA report on the dangers of dioxin has been fifteen years in the making. Now, the National Academies of Science say EPA still has more work to do. Living on Earth's Jeff Young reports on why the effort is taking so long, and what's riding on the final conclusions.